A greeting card or a traditional gift box? No thanks! Try our Customizable Hexagon Love Gift Box! If you're looking to send a romantic gifts for her or a love gift just because or celebrate one of life's little moments, this Customizable Hexagon Love Gift Box gift of love will help you do the trick!
When closed, the gift box looks like an ordinary gift box; Once opened, all the sides of this gift box fall back to reveal a large multi-layered gift of love card. This love gift is simple to use, just according to your own scrapbook ideas to DIY it, Then this gift box will give you a satisfactory valentines gift result.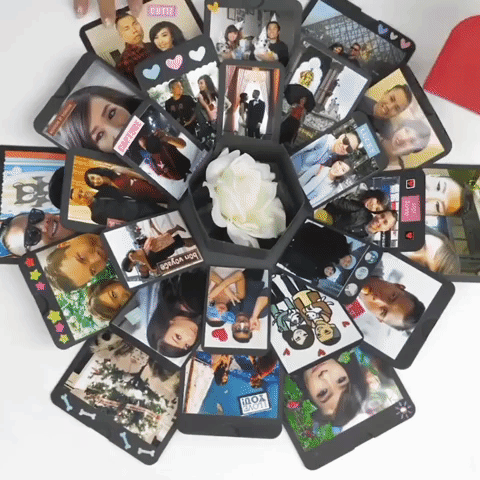 Customizable Hexagon Love Gift Box has built-in some parts to write and record in this gift box the happy memories between You and the person you love. Let the person you love feel the gift of love through your warm fingertip. This is the perfect valentines gifts for engagement, wedding, anniversary, birthday, Valentine's Day, Baby grow gift, Mother Day, Christmas or just because of love.
Features:
The gift box will explode once opened, and reveal all the love you put into it.
The love gift is beautifully designed and decorated so that you can save some of the most memorizable photos between the two of you.
Rather than giving material goods, this gift box is a special way to say "I love you".
As a surprise or romantic gifts for her
Specifications:
Material: Paper
Fold Size: 15 X 15cm
Unfold Size: 43 X 43cm
Package Includes:
1X Customizable Hexagon Love Gift Box