Looking fora piggy bank for kids?
Get your kids to solve the maze before they withdraw their savings!
Or you can play a game with your friends during party or gathering.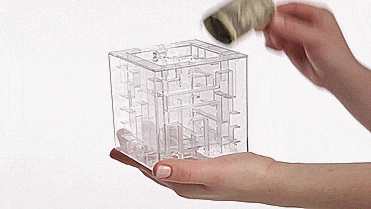 This Maze Coin Bank is a great place to hold your cash, gift cards and cheque, but there's a twist – you have to guide the steel ball through the maze to get your stuff out again.
It could be restarting the game all over again if you are not careful enough to make the ball fell into the wrong hole!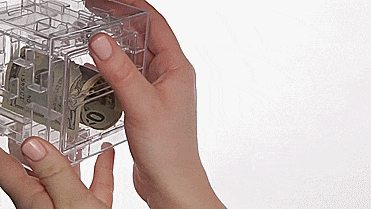 The puzzle is neither too hard nor too easy. The degree of difficulty is designed just enough for your kids to solve as long as with patient and intelligence. The compact size ( 7.6*7.6*7.6 cm) is suitable to take it anywhere, or just put on the desk as a decoration. Maze Coin Bank is ideal as unique birthday gifts for the adults and kids in your lives who love brain teasers, or use it as a funny gag gift to make your teenagers use a little ingenuity and logic to get to their cash.
Features:
Simply play, compete and win games for real money.
Engage the kids in these fun games and make time fly.
A sweet and perfectgiftfor your kids and friends.
Intelligent development toy & stress releasing tool.
Test patience, perseverance and hand-eye coordination.
Package Includes: