A new pet grooming accessory designed to keep you and your dog happy during bathtime!
No more trying to wrangle your dog into the bathtub and keep them there while you bathe them. Just paste some peanut butter onto the
SlowTreat Dog Feeder
slap it onto your shower wall, and start cleaning your pooch as they slowly devour their treat.The
SlowTreat Dog Feeder
dog bath distraction feeder is made from 100% silicone so you can even freeze the treats onto the feeder before using it, so that it'll last even longer. The device is also filled with tons of little nubs that'll make it even harder for your dog to devour the peanut butter too fast.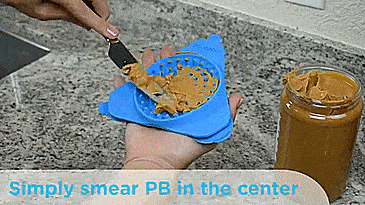 Just add wet food, bananas, peanut butter, or whatever your dog likes! Our specially designed nubs constructed from 100% FDA-grade silicone and will hold it securely in place. The SlowTreat Dog Feeder easily sticks to any surface, works perfectly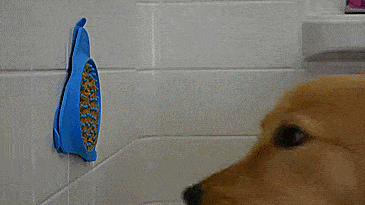 Whether it's time for a bath, nail trim, or brushing the SlowTreat Dog Feeder serves as the perfect to companion to help keep your pup distracted. When you're done just toss them in the dishwasher. Or stack up a few and keep them in the freezer so they're ready when you need them.
Features:
Convenient for pets to eat and drink.
Comfortable for your pets.
Easy to clean and fill.
Non-skid in the bottom. Dishwasher safe.
The slow feed bowl promotes healthy slow eating, helping prevent obesity, bloat, regurgitation and overeating.
Plastic bowl designed to slow rapid eating.
Slow your fast-eating dog down with the slow feed pet bowl.
Prevent choke, regurgitation and canine obesity.
Specification:
Material: PP Plastic and Silicone
Dimensions: 0.7 x 7 x 6.1 inches

Volume:

200g
Package Includes: